BEGINNING
The presence of the friars in Nigeria was initiated in 1996 at the request of the Bishop of Ijebu-Ode. Mons. Albert Ayinde Fasina. On November 6, 1997, the first two missionary friars arrived: Fr. Alfonso Maria Salazar and Friar John Joseph Maria Borja, accompanied by our Vicar General, Fr. Gabriele M. Pellettieri.
Marian Adoration Shrine of the Holy Rosary
On December 25, 2000, the "Marian Adoration Shrine of the Holy Rosary" was consecrated.  It's a shrine based on the message of Fatima, a message that calls for prayer and worship.
The shrine, proposed by the local Bishop, was initiated and completed by our Institute.
Charity Schools
Four charity schools for orphans, homeless, needed.
There are about 400 children in 4 different villages:
Eriboro,
Babarisi,
Agede
and Imosimi.
The school is free for the children, we support every with the help of the MIM in Nigeria, benefactors in Nigeria and also in USA.
All the schools are in the really poor areas, and with us these children could not go to school, and to the healthy school.
In our schools, the received a very good human and religious formation, a healthy formation. And that is very nice.
At Ijebu-Igbo, we also take care of the lepers, in the villages, we give assistance to people in their material and spiritual needs.
The group Mission of the Immaculate Mediatrix, who is the group of the laith people who follow our spirituality, help for the schools, and we organize in different parishes the "A Day with Mary".
St Peter Catholic Church
St Peter Parish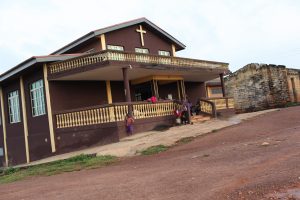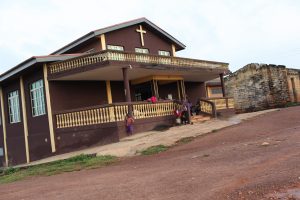 Feast Day: June 29
Chapels:
St. Joseph Catholic Church, Obada.
Christ the King Catholic Church, Japara.
St. Michael Catholic Church, Ojowo.
St. Joseph Catholic Church, Lepers' Resettlement Camp.
St. Pio Catholic Church, Osun-Budepo.
St. Gabriel Catholic Church, Erigboro.
St. John Catholic Church Togunberu.
St. Joseph Catholic Church, Jegede.
Our Lady of Lourdes Catholic Church, Imosimi.
St. Maximilian Catholic Church, Agede.
St. Clare Catholic Church, Gbeokotaru.
St. Anthony Catholic Church, Baba-Risi.
 The Marian Community:
Marian House: "Mother of Perpetual Help Catholic Mission House"
P.O.Box 25, Ijebu-Igbo,
Ogun State Tel: +234 037-350433, +234 09033405971
E-mail:
Superior: Rev. Fr. Gabriel UDOGU, FI.
Tel.: +234 903 340 5971
E-Mail:
Vicar: Rev. Fr. Dominic OKONWA, FI. Director of the Charity Schools.
Tel.: +234 8094560605
+234 8023118781
E-Mail: fradomincmary@gmail.com
Econom: Friar Augustine IGBE
Tel.: +234 811 610 0762
E-Mail: augustineigbe@gmail.com