Marian Shrine, Apostolate Center, novitiate, postulancy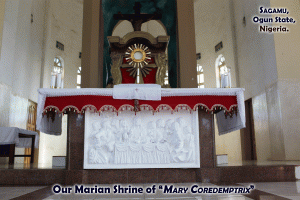 On a vast land given by the Bishop of Ijebu-Ode. Mons. Albert AyindeFasi, at the beginning of the third millennium, the Franciscans of the Immaculate propose to plant the first City of the Immaculate in Nigeria as a spiritual center for the whole nation.
The first community of friars settled on July 16, 2004.
On February 11, 2008, after two and a half years of work, the Sanctuary of "Mary Coredemptrix" was consecrated, and the House of Charity of St. Pio was blessed for the assistance of poor girls. 
The house is run by the FI Sisters,
Since 2010, it has been a novitiate house.
The Community
Marian Friary "Our Lady the Corredemptrix"
Diocese: Ijebu Ode
Bishop: Most Rev Dr. Francis Obafemi Adesina
Address: Franciscan Friars of the Immaculate
Behind Sagamu local govt
P.o. box 364, Sagamu – Ogun State
Nigeria.
Tel: +234 07067095288
+234 07054910876
Email: ffisagamucity@gmail.com
Members of the Comunity
Father Guardian: Fr. James Mary Hoke Shatu, Vocation Director.
Vicar: Fra. Augustine M. Izibili
other friars:
Fr. Francois M. Gnammi Kasco, Delegate for FI AFRICA
Fr. Vincent-Mickael M.  Egbu
Fra Rufino M. Iloegbunam.
And we have with us 8 postulants.